PARTS & Z's FOR SALE
Just in!
Parts for a 260Z


Parts are FREE, just give Ted a call at 219-682-7894
Early Gen Parts for Sale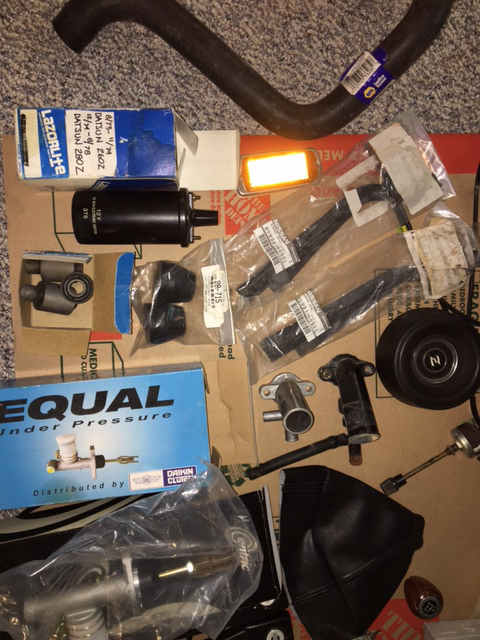 For sale, misc gen 1 parts, some new: Fan, engine compartment light, interior strut covers, interior tail light covers, coil, distributor, door handle trim, window cranks, seat belt latches, clutch master, horn pad, a pillar door, weather seals, side marker light, 4 speed hardwood shift knob and boot, panel dimmer rheostat, hvac control unit with evaporator, door sill plates, defroster ducts, new complete dash cover with glue and instructions, strut bump stops, front end bushings, radiator hose, engine coolant return fittings.
Call or text Ramzi at 847 951-3711 for details
1981 280ZX Turbo, 47,000 miles!
Tom Reich, former owner of Z Car Service Center in Des Plaines, IL.
Well known to most of the WCZC members moved to Springfield, IL last year and is now
selling his beautiful 1981 280ZX Turbo. This is a "cream puff" and I can't imagine a better-maintained car anywhere. All original with 47,600 miles. He is asking $13,500 or best offer.
Home # 217 753-4006 Cell # 847 650-1340. Ask for Tom or email:
charlielouisekittie@icloud.com
1985 Nissan 300ZX - Mint Condition
Only 37,500 Miles
BEAUTIFUL!!!!!
Original owner can no longer drive this pampered car. This non-turbo, 2-seater beauty
has been garage kept and has never seen snow or salt. The car is rust-free and has a
manual transmission, leather interior, all-digital dash as part of the premium package.
The dark pewter paint is sophisticated and nearly flawless and the grey leather interior is
spotless - outstanding! While not substantially driven for the last 7 years,
she continues to run like the day I bought her. This car has all original parts except
the obvious (tires, battery, etc.). The only known problem is that the radio does not currently work.
I unfortunately need to sell because I can no longer drive a manual car and could
use the garage space. The pictures above tell only part of the story.
Asking $14,600. Please contact Mb at Zfan65@gmail.com for more information.

2006 350Z Roaster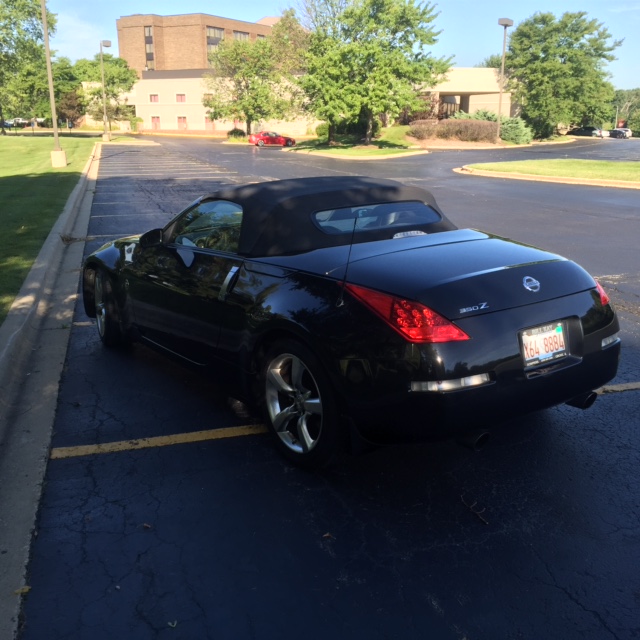 Black 2006 Nissan 350 Z Roaster Convertible. Automatic transmission.
Great condition with clean car fax report. Only 70,800 miles. Only driven in the summer and fall months with an average of 6,500 miles driven per year. Garage kept during the winter with cover and the battery connected to a trickle charger. New tires and brakes. Asking $10,300 Please Contact:
Mark & Cindy Snodgrass @ 847-516-2307 or email mark012@comcast.net
1984 300ZX 50th Anniversery



1984 300ZX is fully loaded and everything works inside, very clean but needs some work does run. Antenna is broken Glove box needs repair, Needs fuel injectors, alternator, and has a few vacuum leaks. There is some front end damage to the right side headlight it does work but it is bent. Exterior is very clean there are a few surface rust spots but nothing bigger than 3 inches by the rear windows. Its been garage kept for 15 years. Comes with Car Bra, t-top inserts, covers, interior leather is very clean no cuts, tears or scratches, mileage is very low under 50,000 miles. Two owners before me and one was my dad. All this car needs is the right owner, some TLC and you have a classic winner. $3,300.00 FIRM.
Please feel free to contact me anytime day or night. Located in Zion, IL.
My name is Stee-Low. Call 224-717-6024 or email me at Steelow88@gmail.com


Snow Tires for 370Z
(Michelin Ice)
2-225 X 50R18XL 2-245 X 45R18X
Less than 500 on Tires (No Wheels) Original Price: $800.00 Sell for $400.00
Weather Tech Floor Mats for 2013 370Z both sides! Original Price $60.00 Sell for $30.00
Contact Bill at 630-466-7277 or email: biljonezz@gmail.com